In order to use functions such as transferring login data from the browser or automatically filling in passwords in the browser, you need the browser extension for the Steganos Password Manager in the browser you are using.
To install this extension, please click on "Help" -> "Install Browser Extensions" in the Steganos Password Manager menu bar.
Then select the browser you want to use in the dialog that pops up and click on "Complete installation".
You will then be redirected to the extension store of the respective browser provider and can directly install the browser extension there.
After the installation you will find this icon in the upper right corner of your browser (example: Edge).

If you click on this icon, either the Steganos Password Manager will be started (if it is not already running) or a menu will open.
"Fill in form" automatically sets your login data on the current website, if any are available. If entries are available for the current website, they will be displayed here as a list. If more than one is available, you can select which one should be entered.
"Save filled form data" transfers login information you have filled in the browser to the Steganos Password Manager and creates a new entry for it.
"Start Account Wizard" starts the wizard for creating new login data.
"Save and close keychain" saves and closes your keychain.
If you switch to the "Private Favorites" tab at the top, the favorites saved in the Steganos Password Manager will be available. Just click on the favorite you want to access the corresponding website.
By clicking on "Add to Private Favorites", you can also save the currently accessed website directly as a Private Favorite in the Steganos Password Manager.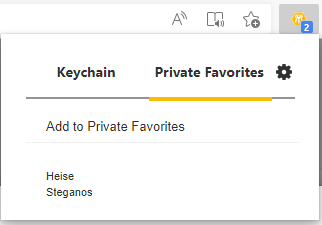 By clicking on the cogwheel you can access the settings for the browser extension.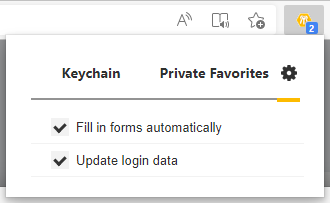 If you don't want saved login data to be filled out in the browser immediately when the corresponding website is called up, simply remove the checkmark next to "Fill out forms automatically".
If you do not want new or changed login data to be automatically transferred from the browser to your Steganos Password Manager, remove the checkmark next to "Update login data".
The Steganos Password Manager browser extension also displays a small keychain icon in all input fields that it recognizes as part of a login.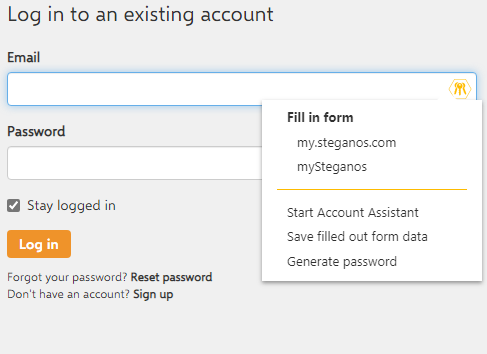 You can also use this to fill out a form for which login data is available, to start the account wizard to create a login automatically, to transfer data already entered into the Steganos Password Manager or simply to generate a password quickly.