You have the option to enter your password using a virtual keyboard to protect yourself against "keyloggers". A keylogger is a malicious software that records all keystrokes and sends them to another computer. By using the virtual keyboard for password input, a keylogger can no longer record hardware keyboard input.
You can access the virtual keyboard by clicking on the keyboard icon next to the password input field.
Then simply click with the mouse on the corresponding virtual keys. The
password input via the virtual keyboard is particularly suitable for use on other people's PCs.
Additional security against so-called mouse click recorders, which remember which places on the screen were clicked, is provided by the optional shuffle function. You can activate this in the "Shuffle keys randomly" settings.
To do this, simply open the settings of the Steganos Data Safe program by clicking on the cogwheel in the upper right corner of the main overview and then open the "Virtual Keyboard" category.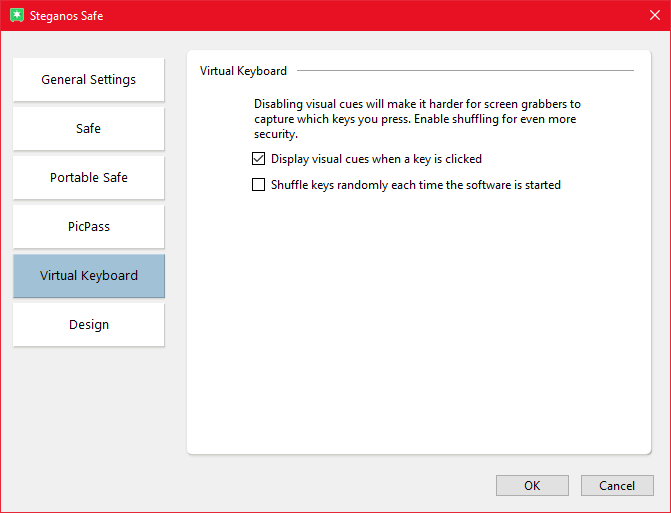 To prevent so-called screengrabbers, which send everything that happens on the screen of one PC to another computer, or third parties who may be able to look at your screen when you enter your password, you can simply uncheck the "Show visual help" box in the settings. This will make the virtual keys visually unresponsive to a mouse click and hide the password entry field. This also means that no conclusions can be drawn about the length of the password entered.