You can hide a Safe in movie or music files, as well as in executable files. This is not steganographic hiding, where the data is invisibly mixed in with the image information: The Safe is attached to the movie or music file. The movie or music file can be played as usual with your favorite media player.
Hide a Safe
To hide a Safe, select the "Hide" menu item from the context menu of a Safe (right-click on the Safe). Follow the wizard to select a carrier file that will contain your Safe.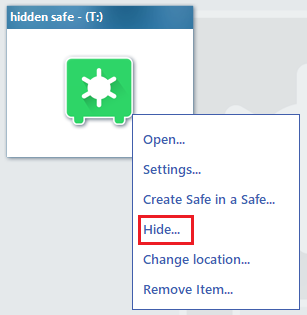 After the wizard completes, the Safe will be in the carrier file and removed from the Steganos Data Safe main menu.
Note that the original files are kept for your safety. You can delete them
delete them manually if necessary. The option to hide is only available for Safes that do not exceed 3 GB in size.
Open a hidden Safe
To open a hidden Safe, please click on the corresponding icon in the main window of
Steganos Data Safe.
In the wizard that appears now, please select a carrier file. After entering the
password, the Safe will be mounted as a drive under Windows as usual. The wizard remains open until you want to close the hidden Safe.

Please note: This is not hiding the Safe in a forensic sense. With the
correct tools it can be detected that a Safe is located in a carrier file. However, under no circumstances can it be opened without the correct password.